I often find a great number of people who live in Sydney struggle with the rush of city life. Often one can find problems with a big city. Be it, the traffic, finding a park, overcrowding at restaurants, not to mention the hectic noise. You find people flocking to airports to travel either interstate or Internationally in order to find an escape from the heart of the city. But, one forgets the wonders that lie on Sydney's doorstep. Utter gems that are only a stones throw away. Much easier to get to than you think.
The Blue Mountains
The Blue Mountains World Heritage area is roughly 10,000 square kilometres (3,900 sq mi), including the Blue Mountains, Kanangra-Boyd, Wollemi, Gardens of Stone, Yengo, Nattai and Thirlmere Lakes National Parks, and the Jenolan Caves Karst Conservation Reserve. It is home to a number of eucalypt habitats creating endless options for the adventurous explorer! Bushwalking and hiking through the golden sandstone gorges. Seeing the wonders of nature as the deep pitch black limestone caves carved into the mountains are lit up with the bioluminescence of hundreds of glow worms. Or exploring the prehistoric temperate rainforests of the Jamieson valley as you discover the unique flora and fauna that make up this incredible ecosystem. Due to its isolated nature, the area is pristine. There are only a handful of roads through the area so getting to remote places is impossible. There are even untouched pockets of bush protecting ancient rare plants such as the Wollemi pine which, dates back to the Jurassic period.
The Hunter Valley
The Hunter Valley is Australia's most visited wine region with sweeping vineyards and world class wines on offer from various cellar doors. There are numerous beautiful vineyards to try delicious wines or even to slow everything down as you sit down to your relaxed lunch of locally sourced seasonal produce transformed into a sumptuous lunch. The views over the vineyards is fairly hard to beat with the still air relaxing you as it takes you far away from the noise of the city. If wine isn't your cup of tea…have a cup of tea! Or coffee or cheese or chocolate. The number of boutique industries that have grown in the Hunter Valley is unending. From fruit to microbreweries, there is something to relax everyone.
Central Coast of NSW
Sydney is blessed with some beautiful beaches. But, when you compare these with the beauty of the NSW central coast, one realizes that there are beaches, and then there are beaches. The hills of the Killcare area lead down to some superb beaches where the sea meets the Hawksbury River. The wilderness of the Sydney and Central Coast hinterland is breathtaking by itself, not to mention the crystal clear waters of this beautiful area far from the city centre. There are numerous cafes and gardens to stumble across too, to help you to unwind and ease your city blues. The NSW central coast is a beach haven that feels like it is thousands of miles away from your busy office in George Street.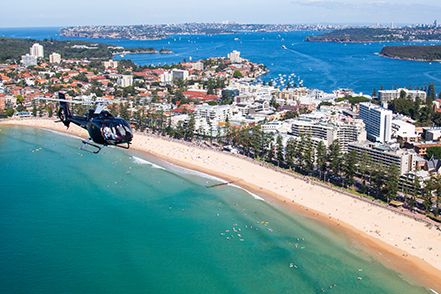 All the destinations I have mentioned are only a few hours drive away and perfect for overnight retreats. But, what if you wanted to go for the day? Of course there is a minor bias in my writing as Sydney Helitours can fly you to each and every one of these locations. Each is 30 to 45 minutes flight away as you look down upon the rugged gorges cutting their way through unending eucalypt forests or rolling green hills scattered with row upon row of grape covered vineyards. Why travel in a car when you can travel in the comfort or privacy of your private helicopter? For further information, please do not hesitate to contact the Sydney Helitours team. If helicopters are not your thing, enjoy the drive and your escape from metro Sydney!
Posted on:
12 March, 2017