Vivid Sydney 2016 has started off with a bang! Using our glorious harbour as their canvas; artists, designers and musicians have come together from all corners of the globe to create one of the most colourful and spectacular festivals in the world. Make sure to know 'What's On' to experience the true buzz of the festival and capture its many highlights. You're guaranteed a spectacle of sound and colour as you stroll along Sydney's iconic foreshore and its surroundings.

What's on in Sydney
An opportunity to see the Sydney Vivid Festival like it has never been seen before; the harbour and the Central Business District come to life as the city is transformed into a glowing, flashing, pumping beast. Like living organisms, boats are bathed in their own neon glow carrying entranced passengers around the harbour. Hordes of spectators fill the streets marvelling at the exhibits and fireworks fill the skies.
The Royal Botanical Gardens from 6pm to 11pm
Take a walk through the historic Queen Elizabeth II Gates from the Sydney Opera House Forecourt, which is brought to life with 3D-mapped projections and follow the illuminated sea-wall to a wonderland of trees and bushes that glow and shimmer. The Cathedral of Light, an immense arched tunnel erected in the centre of the display, is illuminated by tens of thousands of white LEDs. It radiates gentle but brilliant light from all angles and is even more beautiful inside, where the glowing monolith is revealed as a myriad of dazzling light.
Leave the Cathedral of Light and enter an even more extraordinary zone, where landscaped crags and giant figs have been video-mapped for
3D projections, creating a magical world where nothing is what it seems. Express your feelings through touch at Sentiment Cocoon, the ultimate interactive installation that seeks to express human emotion through the medium of light.
At the Royal Botanic Garden Sydney, visitors can sit down, relax and unwind at Busby's Bar for a Tyrrell's wine and some great food as they take in the spectacular light installations and join in their 200th Birthday celebrations.
Opera House - Lighting the Sails runs from 6pm to 11pm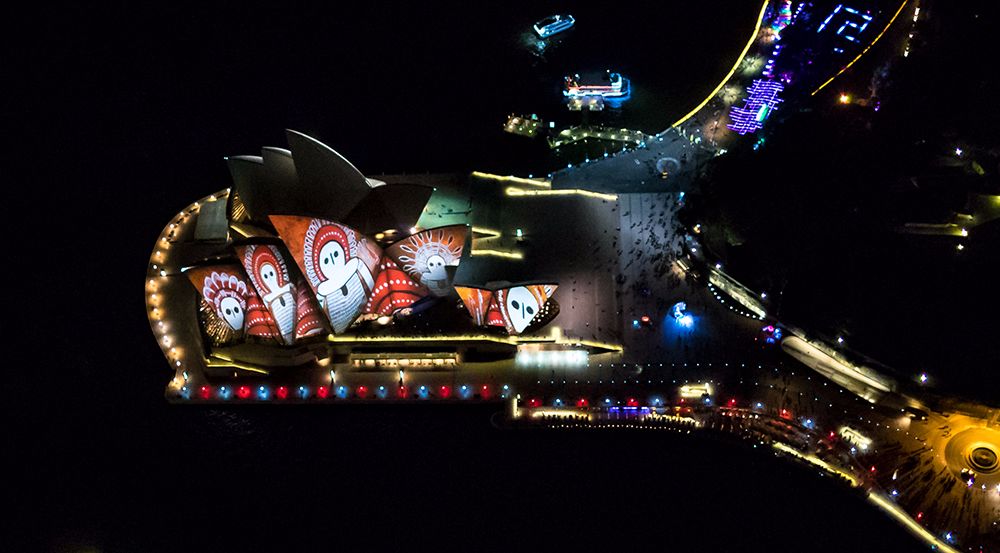 Exclusively for Vivid Sydney, the Sydney Opera House Tour is extending its hours, offering a rare glimpse into the making of this iconic event and the perfect starting point to begin your Vivid Sydney experience. Also not to be missed is the Backstage Tour – Vivid LIVE. This two-hour evening VIP experience takes you behind the scenes as the Opera House comes alive for Vivid LIVE, then finishes up with dinner and drinks in the Opera House Green Room.
Perfectly positioned with plenty of outdoor heaters for prime viewing of the Sails and Sydney Harbour, the Sydney Opera House's harbourside restaurants and bars are taking inspiration from the iconic Sails with menus offering a range of locally sourced Australian produce.
Taronga Zoo - Last entry at 9pm
Celebrating its Centenary, Taronga Zoo is taking to the stage as one the wildest and greatest light shows of the festival. An illuminated trail comprised of giant animal multimedia light sculptures running through the park headlines the display. The zoo will feature ten critical species from Australia and Sumatra, ranging from the magnificent Asian elephant to the brightly coloured Corroboree frogs, species that Taronga is committed to protecting.
These giant light sculptures will be among the largest and most technologically advanced lanterns ever to feature in Vivid with interactive lighting, sound effects and moving parts. A cast of creatures including an echidna, chameleon, crocodile, cicadas and even a funnel-web spider, along with thousands of smaller lanterns made by NSW school students as part of the Zoo's Centenary celebrations will support the exhibition.
Walsh Bay from 6pm to 11pm
Around the corner from The Rocks lies Walsh Bay and the heart of Sydney's thriving performing arts scene. Explore Walsh Bay's heritage-listed wharves and quaint, historic streets to find steep secret stairways, warehouse conversions, open air sculptures and prestige pier apartments. Stay by the sea in a harbourside hotel, watch a show, join a dance class or simply soak up the views.
Leave the Car at Home!
Don't ruin the experience by being stuck in traffic or by having a hard time finding a place to park. Due to the size and popularity of Vivid Sydney, there will be extensive road closures and special event clearways in the Sydney CBD, The Rocks and Walsh Bay to help minimise traffic congestion and keep pedestrians safe.
Vivid Sydney recently broke its attendance record with more than 1.43 million attendees making their way to explore the festivities. If becoming part of the crowd isn't your thing, why not try something different and go beyond what's on the surface.
Try Something Different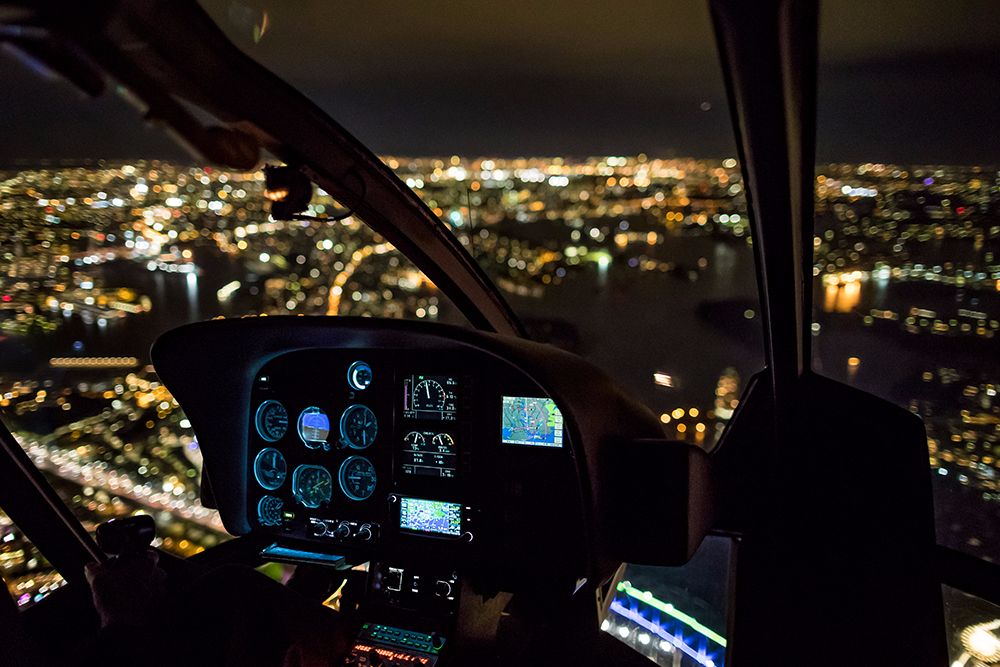 Flying through Sydney at night time is an amazing experience – but imagine what it would be like flying through during Vivid! If you want to capture Vivid Sydney from a truly unique perspective, why not take to the air?
For the first time, Sydney HeliTours has partnered with Canon to provide a truly breathtaking experience. Equipped with Canon's top of the range EOS-1D X Mark II and a gyro to remove all potential shake, find yourself sitting above Sydney's spectacular skyline while it is drenched in colour.
High above the action a helicopter hovers silently, hidden in the dark, its occupants aiming down their sights capture the perfect shot. Their view extends from Darling harbour to the Opera House and beyond, looking down on the Sydney Harbour Bridge as it changes from blue to red to green, the fireworks of Darling Harbour in the distance and the Opera House with a digital Dreamtime snake slithering over the iconic sails.
Away from the crowds and in full view of everything Vivid Sydney has to offer, there is truly no better way to experience this event. For professional photographers, Vivid Sydney is truly a remarkable spectacle to see from the sky.
Departing Sydney Airport, you will find yourself tracking towards the CBD, lit up like a beacon as your pilot expertly navigates his way over the Harbour Bridge and into the harbour. Your flight route will see you take in all of the festival's greatest sights and is designed to give you a perspective that is unmatched by any other experience.
The doors have even been removed from the helicopter to ensure nothing gets in the way of the perfect shot!
The Product
The Canon EOS-1D X Mark II captures up to 14 frames per second with full AF/AE tracking and in RAW and up to 16 frames per second in LiveView Mode without AF, breaking the boundaries of high-speed shooting. Boasting a wide and versatile ISO range from 100 to 51200, expandable from 50 to 409600 – the EOS-1D X Mark II excels in all lighting environments. With 20.2 Mega Pixels and a 61-Point High-Density Reticular AF II system with 41 cross-type AF points, which covers an expanded area and focuses under low light up to -3EV photographers have access to exceptional image quality.

Utilising the Canon EOS-1D X Mark II to its full capacity we introduce the EF 24MM f/1.4L II USM wide angle lens. The light efficient quality of the new flagship DSLR combined with the 24MM lens offers unparalleled photo quality under the most extreme lighting conditions. This is by far Canons best-performing and best-built lens, it is also Canon's widest angle lens with an aperture wider than f/2.8 – 2 stops wider than all wider angle Canon lenses.
For ever changing lighting conditions, the Canon EOS-1D X Mark II has built in a completely new 360,000 pixel RGB metering sensor with infra-red sensitivity ensuring images are correctly exposed under multiple lighting conditions, even if the light source flickers.
This is just a snippet of what is on offer with this incredible product.
The Experience
A surreal aerial photography platform that will exceed your expectations. As a photographer, taking to the skies armed with this new Canon DSLR allows you to test this product in its element. Photographers are provided with the top of the range Kenyan Labs KS 6X6 Gyro to ensure a steady aim captures all the light possible creating stunning images. With the doors off your helicopter, there is nothing between you and your subject. This device is in its element and so are you.
Our lucky photographers take off and feel the Kenyan Labs KS 6X6 Gyro control the stability of the professional equipment they are fortunate enough to test, and over such an incredible city and during such an amazing annual event. They will view so much more through Canon's widest angle lens available, than ever before. Familiarising themselves with the Canon EOS-1D X Mark II before they fly to ensure no time is wasted in the air. After the flight, our photographers' photos are loaded onto their own USB to use at their own discretion. At their leisure, photographers submit any two of the photos to the team at Canon Collective for a complimentary A2 size professional render sent back.
This experience is designed to focus a photographers' skills on this amazing Canon DSLR with Sydney's most dramatic backdrop during Vivid, a truly world class event.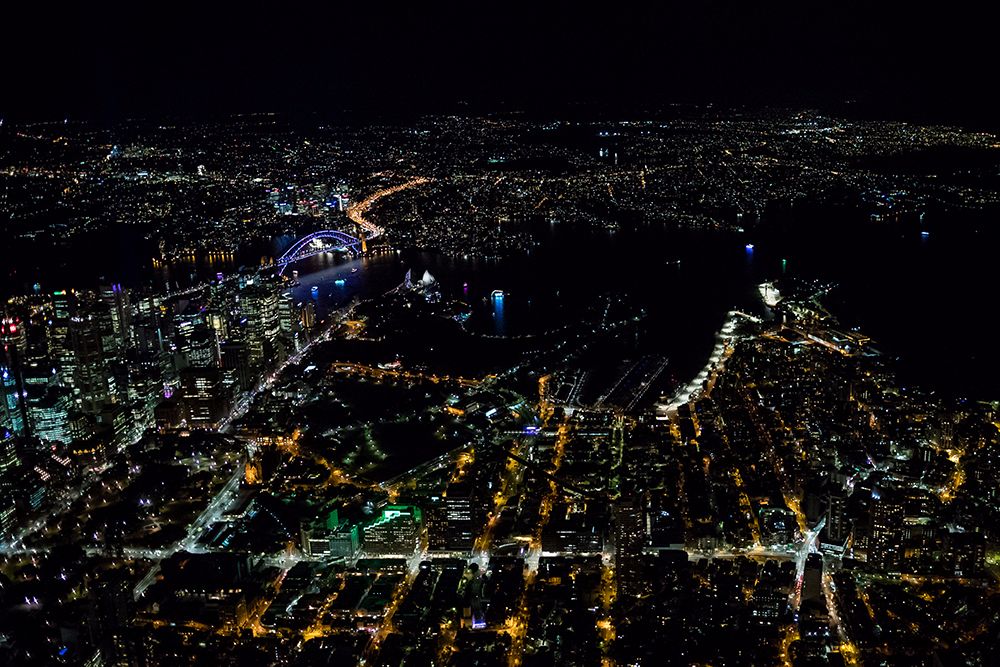 We Offer Much More Than Vivid Flights!
Did you know we offer a whole host of other flight packages and tours as well? Here are some other popular flights you can put on your must-do list.
This is the best way to see Sydney in all its glory. See full panoramic views of Sydney's eastern coastline including Coogee Beach, Bondi Beach, Manly Cove, Sydney's spectacular Harbour and city skyline, the Sydney Harbour Bridge and Sydney Opera House. This tour will leave you breathless! Great views all packed into a 20-minute helicopter joy flight.
Sydney Twilight Heli Flight – 25 minutes
Bathed in the glow of the afternoon's setting sun, our twilight scenic flight flies past the Eastern Suburbs beaches including Coogee and Bondi Beaches before seeing the magnificent North and South Headlands, the gateway to the world's most beautiful harbour. After flying over Manly Beach you will continue over the waters of Sydney Harbour and see the city lights come to life as the golden sun sets over the Blue Mountains. Get a bird's eye view of the Sydney Opera House and Sydney Harbour Bridge as your pilot takes advantage of the last light of the day. This is a magical time to fly and a 25-minute helicopter ride that should not be missed.
Tours and Packages
Sydney HeliTours also offers an extensive range of scenic flights and day packages including luncheons and day helicopter tours. To see all we have to offer, please browse our website or give us a call on 02 9317 3402 to chat to one of our friendly staff members.