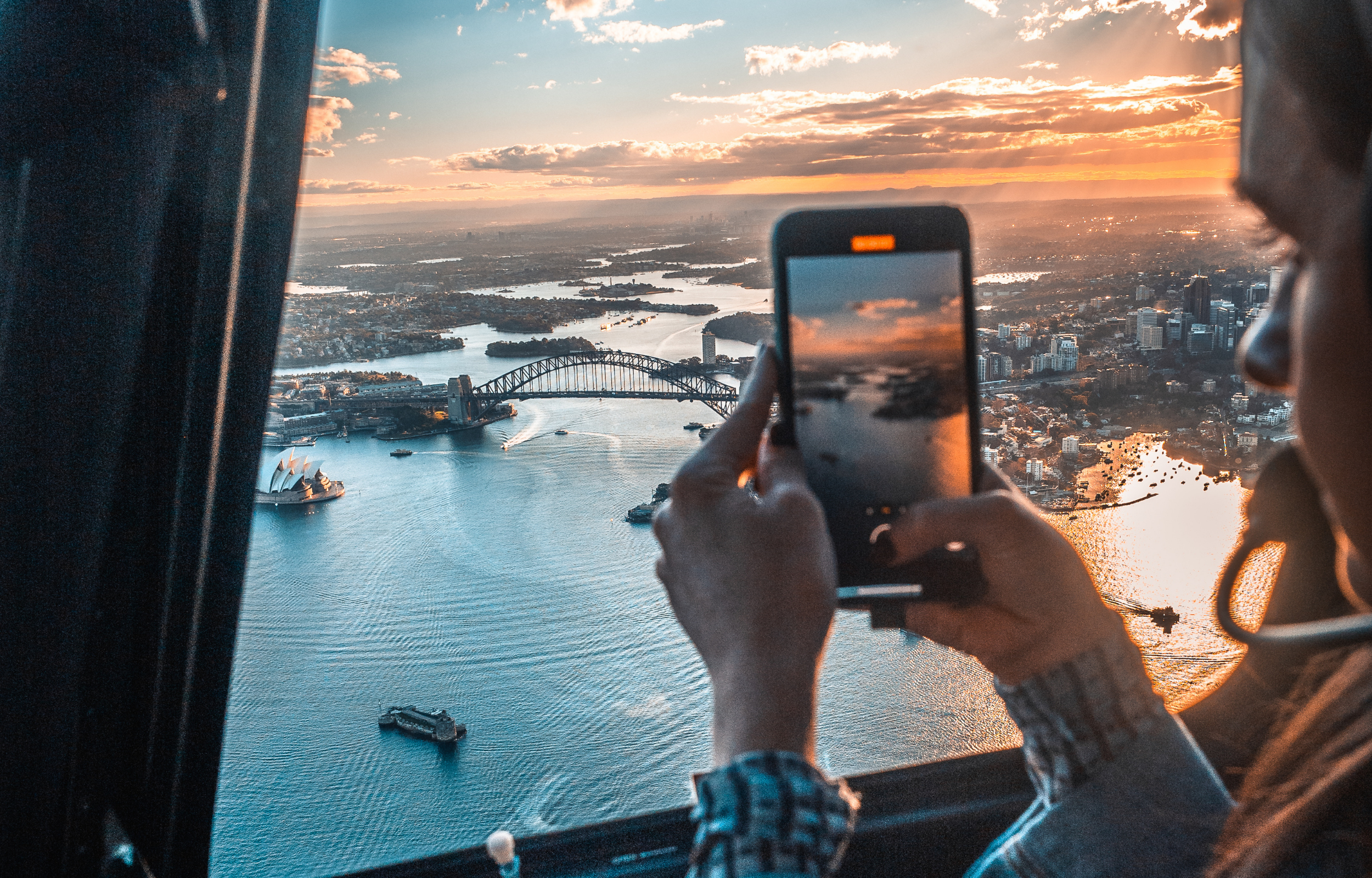 ---
Breaking Dawn Together:
There's something profoundly romantic about witnessing the first light of day or the fading hues of dusk together. Sydney, with its breathtaking coastline and serene spots, offers a picturesque canvas to share these tranquil moments. Start your special day by catching the sunrise at one of the city's pristine beaches. Bondi and Coogee Beach are classic choices, but for a more secluded experience, venture to Milk Beach or Balmoral Beach.
As your day unfolds, plan to capture the sunset's glow, perhaps from a different vantage point. The Sydney Observatory Hill Park gives a panoramic view of the sky as it transitions through a palette of warm colours, reflecting the evolving chapters of your love story. The tender moments spent amidst nature's beauty will not only frame the day but also deepen the bond you share, setting a serene yet exhilarating tone for the adventures ahead.
Soaring Above Sydney:
Now, for the crescendo of romance – a helicopter tour with Sydney HeliTours! This isn't just a flight; it's a sky-bound journey where love floats amidst the clouds. As you soar above the iconic landmarks like the Sydney Opera House, Sydney Harbour Bridge, and the shimmering stretches of Bondi Beach, you'll be wrapping your love in moments of awe. The world seems to stand still, leaving just the two of you amidst the vast, beautiful skies.
Imagine the thrill of holding hands as you hover above the emblematic heart of Sydney, sharing whispers of love amid the soft hum of the helicopter. This intimate experience is beyond compare, offering a unique perspective not just of the city, but of the heart-pounding excitement such adventure injects into your relationship. It's about breaking free from the routine and creating a milestone memory that'll be cherished forever.
Pre-flight Preparations:
Preparation is key to ensuring your sky-high adventure goes off without a hitch. Firstly, check with Sydney HeliTours about the weather conditions and any specific requirements for the day. Dress comfortably but don't forget to add a touch of style - after all, you'll be capturing these moments for posterity.
Ensure your camera and phone batteries are fully charged. You might also want to clear some storage space for the plethora of photos and videos you'll be taking. A portable charger could be a lifesaver in keeping your gadgets juiced up for the entire adventure.
Creating Memories in Motion:
In this digital age, capturing and sharing your love story has never been easier or more fun. Instagram and TikTok are the stages and your adventurous day out is the story. But how do you ensure your captures do justice to your experiences? Firstly, natural lighting is your best friend; make use of the golden hours at sunrise and sunset to capture those perfectly lit shots.
For TikTok, it's all about movement and narrative. Document your journey from the ground to the skies, capturing your reactions and the stunning vistas. On Instagram, focus on the aesthetics. Capture a mix of candid moments, serene sceneries, and of course, the two of you against the majestic backdrop of Sydney's landmarks.
Remember, it's not just about the visuals, but the emotions they encapsulate. So, let your joy, excitement, and love shine through in every capture, creating a digital memoir that echoes the essence of your special day.
Tailored Sky Tours:
Your anniversary deserves a touch of exclusivity, and Sydney HeliTours is here to provide just that through our charter service. Tailoring your sky-high adventure to be as unique as your love story is their forte. While extending standard scenic flight durations isn't an option, chartering a helicopter opens the door to a personalised experience. Imagine a bespoke flight path taking you over places that hold sentimental value to both of you, creating an aerial narrative of your journey together.
As for the celebratory toast, while it can't be done on board, Sydney HeliTours offers a luxurious lounge area where you can enjoy that champagne toast to love and memorable adventures. You're also welcome to arrange flowers and even a professional photographer to capture the moment, as you toast against the backdrop of the helicopter that carried you on your sky-high adventure. The possibilities to customise your experience extend to ground as much as they do to the sky, ensuring your anniversary celebration is as extraordinary as the love you share.
Whether it's extending your flight time to enjoy more aerial views or arranging for a professional photographer to capture your journey, Sydney HeliTours is ready to accommodate. Every tweak in the plan aims at making your anniversary not just memorable, but extraordinarily so. Your love story is one-of-a-kind, and your celebration should echo that sentiment.
More Than Just a Flight:
Sydney is a treasure trove of romantic experiences waiting to be discovered. Beyond the sky, the city opens up a realm of possibilities to continue celebrating your special day. How about a serene ferry ride across the sparkling waters of Sydney Harbour, followed by a cosy dinner at a rooftop restaurant with the city lights twinkling below?
Take a short trip to the nearby Southern Highlands and indulge in a wine-tasting tour, exploring the aromatic vineyards and tasting the essence of Australia's wine country. The region is just a 90-minute drive from Sydney, making it a feasible yet enriching extension to your anniversary adventure. As the day winds down, consider extending your celebration with an overnight stay. The Southern Highlands boasts charming boutique accommodations where you can nestle in for the night amidst tranquil surroundings. Enjoy a romantic dinner at a local gourmet restaurant, and toast to the love you share under a canopy of stars. Wake up to the serene beauty of the countryside, perhaps with a leisurely breakfast in bed or a stroll through the lush gardens, before heading back to Sydney. This peaceful retreat provides a perfect ending to your memorable anniversary celebration, wrapping it up with a blend of romance, relaxation, and rustic charm.
Alternatively, pamper yourselves with a relaxing spa day in Sydney, letting the soothing treatments prepare you for a night of celebration. The city's vibrant arts scene also beckons with its array of live music venues and theatres, offering a cultural touch to your romantic escapade. These options provide a soothing or culturally enriching way to wrap up your special day if you choose to stay within the city's bounds after your aerial adventure, giving a diverse range of choices to tailor your anniversary celebration to your shared interests.
Land, Sea, Sky – Your Anniversary Playground:
Sydney is more than just a city; it's a playground where love can dance to the tunes of diverse experiences. From the calm waves lapping the shores to the bustling life in its urban heart and the tranquillity of the skies above, it offers a plethora of settings to celebrate love.
Reflect on the past, revel in the present, and dream about the future as you explore Sydney's offerings. With each new experience, you'll find a fresh perspective, a new story to tell, and a stronger bond forming between you and your significant other. Your anniversary is a testament to your journey together, and Sydney is the perfect canvas to paint your new memories upon.
Posted on:
30 October, 2023