A day in the great outdoors. The ultimate eco experience with Sydney HeliTours and Tread Lightly Eco Tours.
The Blue Mountains have been recognised as a world-class nature destination for over 100 years, inscribed on the World Heritage List in November 2000 for defining examples of an unparalleled nature and as a unique laboratory of biological and evolutionary track – this recognises the beautiful difference that nature and visitors can share and, with the help of an eco-guide, accentuate your wilderness experience.
Introducing: Tread Lightly Eco Tours
Tread Lightly Eco Tours operates Advanced Ecotourism Accredited interpretive guided tours in the Blue Mountains World Heritage area. Only 45 minutes in a helicopter flown by Sydney HeliTours, Tread Lightly Eco Tours has provided fully guided bush walks and 4WD tours to international visitors as well as domestic travellers for the past 12 years. They are specialists in the environmental and cultural aspects of the Blue Mountains World Heritage listed area and access to remote wilderness, exploring the ecology, fauna and flora of the region.
Tread Lightly has a unique style of touring which provides guests with a sensory experience while experiencing the best of the region's natural environment through nature-based touring. Guests can visit some of the oldest rainforests, tallest waterfalls and deepest canyons in the World Heritage area, offering great photographic opportunities of the Blue Mountains while learning about the local history and indigenous culture.

Tours consist of small personalised groups of up to 6 people per guide with their Rocks to Rainforest 4WD Eco Tour offering the best options for boutique touring. Supported by luxury 4WD tour vehicles, this allows clients to maximise their visit and increase their experience of the Blue Mountains.
Tread Lightly Eco Tours has achieved Advanced Ecotourism Accreditation with Ecotourism Australia. This accreditation guarantees clients receive the highest quality nature-based touring, by using the system of best practice and minimal impact. All guides are highly qualified ecological guides with extensive knowledge of the local ecosystem and region.
Tread Lightly Eco Tours have recently been acclaimed as the highest credible ecotourism company in NSW (Newcastle University) and has been acknowledged as one of the top 50 sustainable businesses in Australia for responsible, ethical and sustainable tourism.
Tread Lightly Eco Tours have been independently audited by their peers and visitors to maintain a high level of conservation and respect for the beautiful Blue Mountains World Heritage area. Ecotourism is ecologically sustainable tourism with a primary focus on experiencing natural areas that foster environmental and cultural understanding, appreciation and conservation.

The Man Behind Tread Lightly
Award winning head guide and owner-operator Tim Tranter has lived in the Blue Mountains for over 45 years and provides strong links to the local community and region. Tim assists with World Heritage and environmental presentations as well as knowledge on the local region and is a wildlife rescuer, fire and rescue team member and has been a Blue Mountains Tourism Ltd Board member, co-founder of the Community Alliance for Sustainable Tourism and assists Visiting Journalists.
The Rocks to Rainforest 4WD tour offers a unique opportunity to visit some amazing remote wilderness in the Blue Mountains World Heritage area. Guests are taken away from typical tourist destinations in luxury 4WD vehicles. It is this hands-on personal attention and experience that differentiates the Tread Lightly Eco Tour to going to Scenic World which is more focused on the masses being left to their own devices. With the Rocks to Rainforest tour you will see fantastic panoramic escarpments, unique rock formations, deep canyons with ancient rainforest and occasionally kangaroos in the Megalong Valley. Short walks in the wilderness accentuate your interpretive ecological experience on our advanced ecotourism accredited tour.
What To Expect From Sydney HeliTours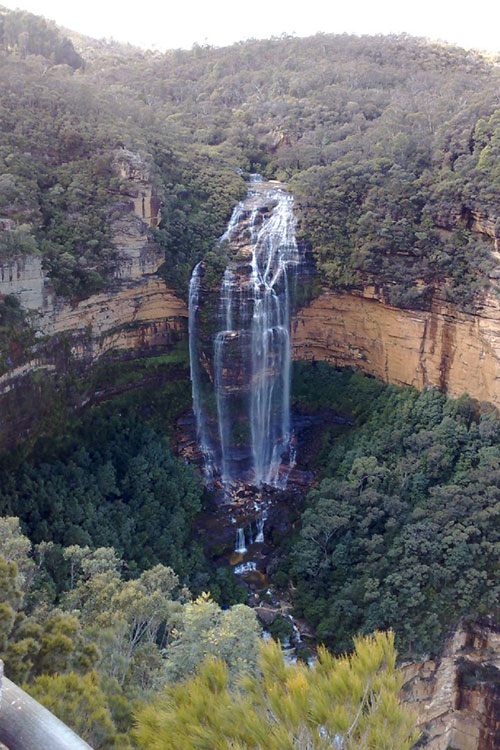 The Rocks to Rainforest 4WD tour by Tread Lightly is not the only highlight to your tour. Your day starts off with our friendly and courteous driver collecting you from your hotel in our comfortable air conditioned mini bus. From your hotel you and your group are driven to our hangar and facilities here at Sydney HeliTours and as we are based out of Sydney Airport we are conveniently located only a short drive from Sydney's CBD. Once you have arrived at our hangar facilities our courteous and professional staff will check you all in for your flight and go over with you all the detailed safety briefing for the aircraft type you will be flying in. Once that is all done you will be guided airside to your awaiting helicopter where the real excitement begins. Now is the perfect opportunity to take some photos in front of your helicopter so you can share them as you please with your family and friends or with your tens of thousands of Instagram or Snapchat followers
Your pilot for the day will go through some more in-depth safety aspects relevant to the aircraft you will be flying. Once the additional safety briefing has been given you will be individually loaded into the helicopter and from here the pilot will start the helicopter and you will be able to hear your pilot make all the relevant requests with Air Traffic Control to obtain the airways clearances needed.
Within minutes you will be flying over the most beautiful city in Australia witnessing its beauty and the iconic land marks like the Sydney Opera House, Sydney Harbour Bridge and also the majestic Sydney Harbour.
The flight time to the Blue Mountains is approximately 45 minutes depending which aircraft you are in and with the sheer size of the mountains on a clear day the Blue Mountains can be seen as far away as Sydney so now that you are traveling out of the city boundary towards the west the mountains will be right in front of you and as you approach the Blue Mountains you will be able to see the true size of this world heritage listed site and its raw beauty as the mountains start to climb up to an elevation of 3700 feet. It almost feels as though the mountains are climbing up to meet you as you're now flying over the top of them.
From your cruising height well above the mountains you will have the perfect viewing platform of this world renowned heritage listed land mark and get a true understanding of the sheer size of it all. The Three Sisters would have to be the most famous of land marks within the Blue Mountains and there is no better way to see them than from above as you fly over them.
Sydney HeliTours and Tread Lightly Combined - One Amazing Experience
The Eco Tour with Sydney HeliTours and Tread Lightly is perfect for those who want to experience the beauty of the Blue Mountains and of course Sydney with a more personal hands-on approach in your very own private 4WD away from the more tourist populated attractions. Contact us today at Sydney HeliTours and let us book you in.
Posted on:
08 September, 2016