Sydney HeliTours has an impressive modern fleet of well maintained, low time helicopters to suit your flight requirements.
Whether it be for a short or a long period of time, a charter, a corporate or a scenic helicopter flight, Sydney HeliTours have a range of helicopters to suit your needs.
Whilst many of our flights are shared, an option available at Sydney HeliTours is to privately hire a helicopter. By privately hiring the helicopter, you can determine which type of helicopter you would like to use for your journey.
The size of the helicopter determines the number of people you can take as well as how far you can go. Single engine helicopters are less expensive to charter and perfect for short daytime flights. Twin engine helicopters are generally bigger, faster and can be used for corporate and night flights as well.
Helicopters are an excellent mode of transport to destinations with no airport, as long as you have a clear and safe area and permission to land, the options are many.

Our sightseeing and package flights around Sydney and New South Wales are very popular, however many of Sydney HeliTours guests choose to charter helicopters to and from airports, resorts, weddings or events.
The following is a representation of Sydney HeliTours fleet;
Robinson R44
Our Robinson R44 helicopters are perfect for scenic flights, charter, film and photography. The R44 is a single engine piston helicopter capable of carrying 3 passengers plus the pilot. It is a high performing and reliable helicopter with a cruise speed of 100 knots and a range of 327nm.
Eurocopter EC130
The EC 130 is a light single-engine helicopter incorporating the latest technology. It has a spacious cabin that seats 6 (forward facing) passengers plus the pilot. It has a cruise speed of 120 knots and 350nm range.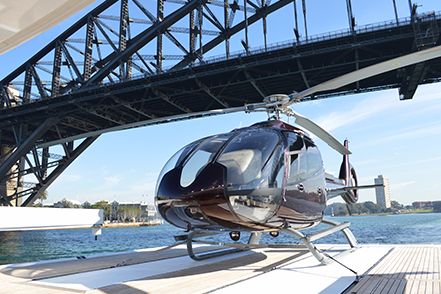 The EC130 provides superior comfort, great operational performance, flexibility and versatility, also making it a great option for helicopter transfers to and from the Emirates One&Only Wolgan Valley.
The EC130 is renowned as one of the world's quietest helicopters, with the Fenestron enclosed tail rotor allowing lower levels of noise output.
The EC130's overall excellent visibility, quietness and safety continues to make this helicopter one of the key picks of the Sydney HeliTours fleet for scenic, aerial photography and charter flights.
Agusta 109 Grand New
The Agusta 109 Grand New is a twin-engine turbine helicopter capable of carrying 7 passengers plus the pilot. It has a high cruise speed, is modern and light and a world class leader in corporate flying.
The streamlined body of the aircraft conceals one of the most luxurious cabins available. The plush interior and large rear windows comfortably accommodate executives for corporate and VIP travel making this arguably our best corporate helicopter available.
The Agusta 109 Grand New is sleek, quiet, comfortable and has a state of the art cockpit with excellent performance that will have you flying in luxury and style.
Safety is paramount at Sydney HeliTours and all our helicopters have been selected to maximise comfort, versatility, safety and performance in order to enhance your flight experience.
Posted on:
24 March, 2022